Welcome to The Expert Roundup where you will find ideas, advice, and information to help you work more effectively with expert witnesses.
Despite the quarantine, JumpStart SME have had a banner month when it comes to retaining experts. Lawyers are catching up on cases and getting the best experts to help with discovery needs and litigation defense strategies. In the last month, JumpStart SME identified, qualified, and retained numerous experts on behalf of its clients.
Read on for the following stories:
Expert Spotlight: Anthony Corrado
How to Do a Remote Deposition Video
Working with the Experts
Profiles of experts recently retained
Expert Spotlight

Anthony Corrado
Founder & Principle, NYC Site Safety Services LLC
With 40 years of diversified construction experience under his belt, Anthony provides NYC contractors with Site Safety Plan Development and OSHA Training.He is an on-site Licensed Safety Professional who oversees large scale construction projects to assure Safety Code Compliance.
During the early days of the COVID-19 outbreak, Anthony was on site at various large-scale NYC building projects, tasked with the enormous responsibility of ensuring worker safety. Upon seeing the state of the site, Anthony quickly become an advocate of closing down non-essential projects to save lives. "Imagine," he told us, "how difficult it would be for construction workers to maintain acceptable social distancing practices while in a crowed 20-minute ride on service elevators at a high-rise development."
After a groundswell of protest, positive COVID-19 job site cases, and the death of an electrician, Governor Cuomo froze construction sites statewide. Anthony underscores that "the health and safety of New Yorkers remains the top priority especially during this unprecedented crisis. Shutting down was the right thing to do."
JumpStart SME retained Anthony Corrado to opine on a construction site accident where the plaintiff was struck with a foreign object penetrating his right eye. Anthony provided his expertise on the standard of care regarding plaintiff's safety glasses.
Since JumpStart's interview with Anthony, New York City has started re-opening more and more construction sites. Job safety in the time of COVID-19 continues to be paramount. The NYTimes reported on the re-opening (full article), reporting:
The construction industry, an engine that has helped power New York City's tremendous growth in recent years, is slowly starting to reawaken, offering one of the first optimistic economic glimmers as the city struggles to recover.
 And it also provides a glimpse of how the coronavirus pandemic has fundamentally changed the workplace in the nation's largest city and the epicenter of the outbreak.
Workers are changing routines to stay safe:
Construction workers' temperature is taken daily with a thermal forehead scan
Elevators have floor markings to maintain social distancing
Delivery drivers stay behind the wheel while a haul is unloaded
City building inspectors make surprise visits to issue warnings and fines
Workers are wearing face masks, disinfecting tools, & washing hands more frequently
More significant changes are on the horizon. Labor group representatives and contractor companies are pushing the city to allow 24-hour construction at some locations to reduce the number of laborers on site at any one time. Turner Construction is looking into prefabricating parts in a factory and shipping it to a job site, so there is less assembly for a group of workers on site. Workers may even soon wear a hard hat with a tracking device that will sound an alarm when they get within six feet of a colleague.
Advice
How to Do a Remote Deposition Video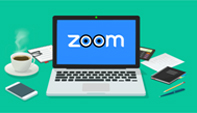 COVID-19 has accelerated the presence of virtual depositions.
Video conferencing has the technology and functionality to make meetings with your client or adversaries productive and seamless in our remote world.
Services like US Legal are equipped for to conduct online depositions.
Here are a few tips from industry experts to ensure your virtual interactions are effective and painless:
Sign-on a few minutes early to confirm audio and video is working properly
Review technology with the other participant at the beginning to avoid issues
Confirm internet connection for both participants
If relevant, click Record before starting the meeting
Use a backup video with a separate camera in case the video is lost or fails to record
Prepare exhibits ahead of time
JumpStart SME caught up with Robyn Rubin who recently conducted several online depositions. She has had a largely positive experience and can offer a few words of advice for colleagues:
Take advantage of US Legal training sessions
Reserve 30 minutes with your clients to go over how to use US Legal
Upload exhibits in advance (you are able to mark them up in real time as you question the witness) and be mindful of an upload limit
Request that the technician stay on the line for the entire meeting if you anticipate needing help with exhibits. Otherwise, you may call them in to help
Be aware of bandwidth requirements – Robyn experienced some participants freezing and being kicked out of the call
Ensure you can see your witness' face. Body language and expressions still reveal true emotions. When you are able to 'read' these signs, you may use it to your advantage. Consider a break if participants seem frustrated
Insist that everyone identify themselves at the outset of the call. Robyn had a surprising situation when an interloper did not identify themselves. He turned out to be the other side's expert who revealed himself when he inadvertently made a side comment while on mute. Naturally, this depo was shutdown.
Confirm the witness can see the exhibit and hear the questions. This confirmation will support the authenticity of the deposition and minimize the risk of future evidentiary challenges
Ask participants to affirm that they are only receiving information using the deposition channel. Robyn astutely pointed out that people could have side conversations via text
Please email us with any strategies or suggestions for future topics.
Extra
Tip: Working with Experts
Experts should always meet or exceed your expectations. It is frustrating to read a report that does not address your case theory. Before you give up on this expert, consider some tactics you can employ. Remember, good work products begin with good direction:
Explicitly express your expectations, including concrete examples
Share your working case theories
Provide catalogued, easy to follow information, records, and evidence
Designate time for clarifying questions during your meetings
Invite feedback and listen carefully to the expert's opinions
Thorough and purposeful time upfront is always time well spent.
Recently Retained Experts
Michael Alaia, MD: Co-Director, Sports Medicine Fellowship, Division of Sport Medicine Center for Musculoskeletal Care; Assistant Professor of Orthopedic Surgery; Member of Sports Medicine Division at the NYU Hospital for Join Diseases
Eugene R. Camorata, PE: Accident reconstruction and product liability expert for 30 years
Ivan Cohen, RF, ARM, CRM, CIC, AAI, MLIS, CRIS, CPIA: President at Cohen-Putnam Agency Insurance Agents, Brokers, & Consultants
Mary E. D'Alton, MD: Chair of the Department of Obstetrics & Gynecology; Willard C. Rappleye Professor of Obstetrics & Gynecology at Columbia University Irving Medical Center
Anthony M. Dolhon: Principal Engineer with Dolhon Forensics
David Edmundowicz, MD, MS: Professor & Vice Chair, Program Development, Department of Medicine, Lewis Katz School of Medicine at Temple University; Medical Director, Temple Heart & Vascular Institute; Director, Preventive & Integrative Heart Health Program, Temple Heart & Vascular Institute
Edward Mantell, PhD: Professor of Finance & Economics; Chairman of the Department of Finance, Lubin School of Business
Kirk H. McDaniel, Ph.D., CMSP, PE, IS/IU, MBA: Director of the Energy, Mining, & Construction Industry Safety Program, Colorado School of Mines
Alexander E. Merkler, MD: Assistant Professor of Neurology, Assistant Professor of Neuroscience, Department of Neurology Weill Cornell Medicine.
David Peraza, PE: Managing Engineer, Buildings & Structures at Exponent: Engineering & Scientific Consulting
Erica Peters, MD: Pima County Office of the Medical Examiner Tucson, AZ, Program Director; Forensic Pathology Fellowship
Henry Talus, MD: Colon & rectal surgeon in Brooklyn, NY; affiliated with multiple hospitals in the area
Richard Lilling retained Dr. Talus to work on an ostomy case.
Charles J. Ascher-Walsh, MD: Associate Professor, Obstetrics, Gynecology, & Reproductive Science, Mount Sinai Hospital
Andrew Tarmus, PE: President, Yarmus Engineering specializing in Architectural, Engineering, & Construction Consulting
Christopher Kelly, Esq.: Litigation consultant with expertise in corporate, securities, venture capital, fund, and transactional law.
JumpStart SME builds a case on the right expert. JumpStart SME connects clients to the foremost specialists in all fields, including academics, industry specialists, business leaders, scientists, and medical professionals.With the insights and expertise of the right expert, our clients can make informed decisions — ensuring effectiveness when answering a complaint or arguing in court. We closely partner with you to understand the particulars of a case and your specific needs to ensure that the expert has been just as carefully considered as the other elements needed for a winning strategy.
Latest posts by Andrea Seiden
(see all)